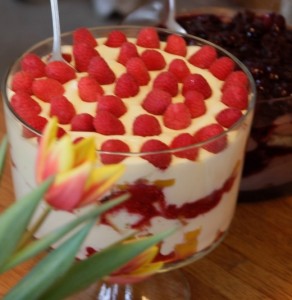 For better or for worse, we all have a reputation
We're known for being kind, or creative, or cynical, or always late. We can also be known for certain skills, like being a good cook or an awesome guitar player. Most of the time, we become known for a skill we have chosen to develop.
But not always.
Sometimes we gain a reputation for some talent or habit we hadn't intended on being famous for. And sometimes that reputation grows to the point we now feel pressured to measure up. When we discover our friends think of us as: "The Woman Whose Home is Always Perfect" or "The Mom Who Does Over-the-Top Birthday Parties" or "The Guy Who Makes the Best Ribs in Town" we have a problem:
No pressure or anything, but the next time we have friends over, they will expect us to fulfill this reputation for wonderfulness–a reputation we never sought, and may not even want.
A personal example
I have been gifted with a reputation as: "She Who Never Makes Any Dessert Twice"
How did I manage to get myself labeled with such a reputation? Apparently it is not normal to arrive at a party or family gathering bearing three desserts that I have never made before. [I guess not all friends and relations are happy about being dessert guinea pigs. Fortunately, mine are.]
Nor does everyone have the mindset that making three different desserts (spanning the major dessert food groups, of course) is preferable to making a triple-batch of one. [It is always advisable to have options, especially where food is concerned, right?]
When you combine all this with the fact that I can't remember what I had for dinner last night, let alone what cake I baked last Easter, I suppose  it's not entirely surprising that I've earned a reputation for never making any dessert twice.
For the record:
I have a recipe box full of dessert recipes I have made multiple times. And family members occasionally request something I have made before. (I try to accommodate them, IF I can remember where the recipe came from and IF I can recall which parts of the recipe I altered.)
 What? You expect me to follow a recipe? Just like it's written? 
(This would be another one of those reputation things: "Does Not Follow Recipes." For me recipes are more what you'd call guidelines than actual rules. But contrary to what my sons believe, I do occasionally follow a recipe exactly as written.) But back to this problem of living up to a reputation…
The question is not so much, "Do I deserve it?" as "Do I let it control me?"
I don't mind my reputation for never baking a dessert twice because I love to bake, and to experiment with food, and there are always new recipes to try.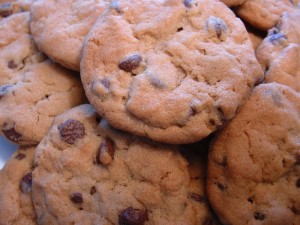 Besides, to my sons' friends and teammates I am know as the "Mom Who Always Makes Us Big Chocolate Chip Cookies." (Thus implying I make the same dessert over and over again.)
So either I have a problem with multiple personalities or these two "reputations" balance each other, leaving me well-adjusted and happily baking. [I'll go with happily-adjusted. Those of you who question this can keep quiet.]
Do you have a reputation for something you never planned to be famous for? Do you find yourself feeling pressured to live up to it?
If so, maybe it's time to give up.
Either that or do a little recipe research to prepare for the next holiday…