By the time you get to the empty nest stage of life, you realize that life is short. The days can zoom past awfully quickly, and those moments can never be regained.
All those passing years have taught me to appreciate each day as it comes. I remind myself each morning to pay attention—to notice the beauty around me, to take small risks, to enjoy the moment.
Don't let the good stuff in life pass you by.
Remember that life is too short to:
Hold grudges
Play it safe all the time
Eat cheap chocolate (or cheese, or whatever your favorite indulgence might be)
Drink cheap wine
Read books you don't like (…except required reading for a class)
Forget your childhood dreams
Always color between the lines
Skip celebrations of significant moments (like a promotion, a dream fulfilled, or a son's engagement)
Ignore that road you've always wanted to explore
Spend all your time indoors
Waste time watching bad TV
Spend too much energy working and not enough playing (workouts in the gym do not necessarily count as playing)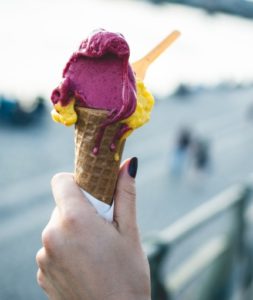 Only get one scoop (Moderation is good, but sometimes you gotta live a little)
Only eat at franchise restaurants
Be afraid to try it at least once
Not pursue the art you were made to create (or the venture you were made to lead)
Put off saying "I love you" or "I am proud of you"
Spend more time ranting than being thankful
Cry over spilled milk (life is full of little disasters, but they don't have to ruin our days)
Fill up on junk food
Ignore what your doctor and your body are telling you
Ignore the beauty in your own backyard
Use only generic soap and hand lotion (when it comes in so many awesome scents)
Be serious all the time
Keep your gifts to yourself
Avoid having guests over because your home is less than perfect
Hoard your money, talents, and time
Not spend time snuggling with babies or kittens
Pursue a dream, even when it seems ridiculously out of reach (if you're following your passions, it will be worth it even if you never reach the ultimate goal)
I hope this reminder will help you have a more awesome day!