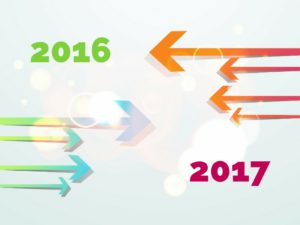 The end of 2016 is upon us. The last few days of December are a good time to look back over the year, assess what worked and what didn't, and make some plans for the year to come. As you reflect over the past twelve months I hope you will consider the following questions:
Questions to ask as you look back
What accomplishments am I most proud of? Why?
What were the most difficult moments, and what did I learn from them?
What activities, no matter how mundane or "unimportant," brought me the most joy?
What activities no longer provide the fulfillment they once did?
What frustrated me the most? Why? What changes can I make that might lessen such frustrations?
Where does repeated failure suggest my current strategy is not working?
Questions to help you see how much you've grown
Did I learn new skills, embark on new experiences, or gain new spiritual insights?
What challenges did I overcome?
Have I become more self-aware or self-controlled?
Did I improve your lifestyle by implementing healthier habits?
Did I discover I was good as something I didn't know I could do? (Bravo, by the way.)
Once we have assessed where we currently stand, we are prepared to begin making wise plans for the future. Here area few questions to help you on your way:
Questions to ask as you look ahead
In what areas of my life do I want to pursue growth?
Where does my life currently align with my values, and where does it diverge more than I like?
How can I add more of the activities that bring me joy?
What am I willing to give up in order to spend more time on what really matters to me?
How can I minimize the potential for frustrations and maximize the potential for success?
In areas of repeated failure, what can I change to become successful?
Questions to consider as you make goals
Is this a goal (I can control the factors needed for success) or is it really a dream (achievement involves factors outside my control)? Ex: "I want to be promoted" is a dream. "I will not spend lunch hour watching YouTube" is a goal.
How might your dreams be restated in the form of achievable goals?
Do my goals need to be broken down into achievable chunks?
Am I being realistic about the time frame?
How do these goals enable me to live the kind of life I truly want to live? Are they based on my values, or are they actually goals other people want me to achieve?
Here's wishing you a new year filled with joy and growth as you pursue your dreams with intention and courage.