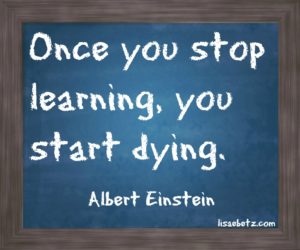 I hope that one of your resolutions this year is to learn something new. I hope that you never lose curiosity for the world around us, and that you intentionally seek opportunities to experience new things, attempt new skills, and visit new places (physically or virtually).
In other words, I hope you are a lifelong learner.
The importance of lifelong learning is one of my core values. Studies in various fields have shown that pursuing new experiences and skills enhances not just mental health, but physical and social health as well.
Lifelong learning:
Keeps our brains sharp. Contrary to some previous theories, scientists now know that the human brain continues to build new synapses into old age. Challenging our brain with new skills is sort of like exercising our muscles. It keeps us in good mental shape.
Helps us adapt to change. If we don't stretch our brains, we will stay in the same mental ruts. Keeping our brains elastic helps us face new challenges with confidence.
Enhances creativity and problem-solving. As King Solomon noted, there is nothing new under the sun. Creativity is not having original thoughts, it is about taking what we know and combining it in new or unusual ways. Therefore, adding new ideas or experiences provides fodder to our creative thinking process.
Helps us stay involved in society. Learning often involves meeting new people, (both teachers and fellow learners). Also, volunteerism is a great avenue of lifelong learning, offering opportunities both to experience new situations and to serve by sharing our knowledge and experience with others.
Helps our lives remain meaningful and fulfilling. As we move from one phase of life to the next, we need to reinvent ourselves. Some things come to an end, and lifelong learning helps us find new things to embrace instead.
Everyone you will ever meet knows something you don't. Bill Nye
In our information-overloaded society, the opportunities for learning are practically endless. Here are some suggestions to get you started:
Local high school adult ed programs
Local libraries offer classes, lectures and other programs. Many are free.
The library also offers a plethora of non-fiction books and specialty magazines. When was the last time you read a book or article about something you find fascinating but know little about? Maybe it's time to dust off that library card!
The internet is overflowing with How-to Podcasts and videos on any subject imaginable (and probably some that aren't).
TED talks can inspire as well as teach
Local churches run Bible studies, but may also offer more in-depth classes. (For example, our church network runs a school of ministry.)
I'd love it if you write me a comment and tell me what resources have you found helpful.
Anyone who stops learning is old, whether at twenty or eighty. Anyone who keeps learning stays young. Henry Ford
What do you want to learn this year? Don't be afraid to think big and try something you've never tried before. After all, it's good for you.