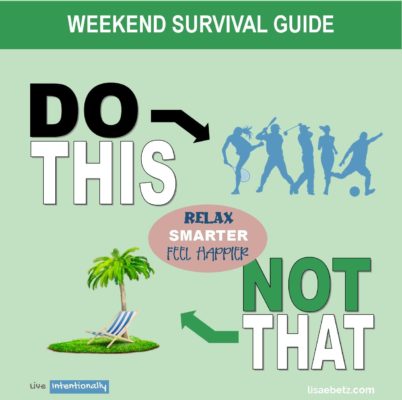 Did you know that all relaxation is not equal? Studies show that a weekend spent passively chilling is not as restorative as one spent participating in more active pastimes, like pursuing a hobby or enjoying a favorite sport.
It may seem counter-intuitive that expending more energy will result in better relaxation than doing nothing, but there's more to restoring our bodies and souls than minimizing physical or intellectual exertion (i.e. vegging).
So I've taken a cue from the Eat This, Not That book series and come up with some suggestions to help you improve your weekend with some options that will engage your brain and body in healthier ways.
This Weekend, Do This, Not That.
| | |
| --- | --- |
| Instead of This | Do This |
| Watching brainless TV shows while checking social media, texting, and answering emails. | Put the phone away. Watch a documentary or a movie that makes you think. Pay attention and learn something new. |
| Lazing by the pool all afternoon | Go do a favorite sport (golf, tennis, basketball) or simply go for a hike. Afterwards enjoy a refreshing dip in the pool. Marco Polo anyone? |
| Watching silly pet videos on YouTube | Find a simple how-to video that teaches dance, yoga, fencing, card tricks, etc. Get up and practice along with the video. Yoga pants optional. |
| Staying home alone all weekend | Get together with a friend or two. Get pizza, go for coffee, wander the park, whatever. Healthy relationships are hugely important to our well being. Even introverts need quality people time. |
| Binge-watching a favorite show | Watch one episode and discuss it. Share your favorite lines, guess what will happen next season, kill off a character and decide how things would change… |
| Escaping into a video game or online game | Get together with friends and play a challenging board game (Settlers, anyone?) Or, find a beginner video on some skill a favorite character has, such as sword fighting, and practice the moves. |
| Leafing through hobby, home and garden, or beauty magazines | Pick an article that inspires you and A) actually try some new idea/recipe/technique/look or B) get out a hobby project and make some progress |
| Vegging in the hammock | Enjoy that same relaxing out-of-doors feel by strolling in a nearby park or forest. Feel the sunshine, listen to the birds and other noises, breathe in the scents, touch rough bark, cool water and smooth stones. |
| Sitting around the picnic table snacking and gabbing | Get the group doing something. A Corn Hole tournament? A group walk around the neighborhood? A round of charades or another group game? A poetry slam? |
| Catching up on paperwork, email, or housework | Block out several hours when you put those tasks aside and focus on something fun. Guard your scheduled "me-time" vigilantly, and don't waste it on social media or other mindless activities. |
I hope these ideas will spur you and your family to have a great weekend!