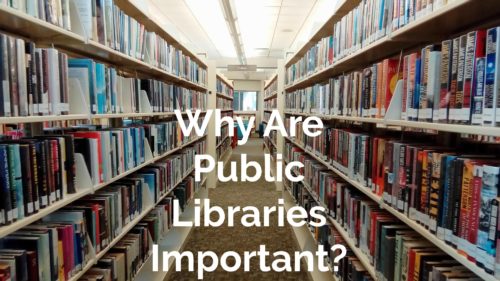 Today we interrupt our regularly scheduled programming to ask an important question: Why are public libraries important?
What are public libraries?
First of all, they are public. Their resources are available to all, and in most cases those resources are free to all users.
Second, they are repositories of books and other materials (magazines, music, and movies, as well as access to newspaper archives, databases and other research tools). All of which can be summed up in one word: knowledge. Public libraries are free, accessible sources of knowledge.
Thirdly, public libraries provide educational and community services. In addition to their shelves full of knowledge, they offer programs and services that range from job application assistance, to story time for toddlers, to exercise classes, all of which help people to live healthy, productive, enriched lives.
So why are public libraries important? How can they remain relevant in our twenty-first century world?
Why I care about libraries
As you may know, I am on the board of my local library. It is one of the ways I choose to serve my local community. Sure, I volunteer at the library because I love books, but also because I believe in all that libraries stand for, including:
The free and equal access of ideas—with no censorship by government or other agencies— which is a foundation of our country. In today's digital world, the library has become an important resource for those who do not have access to the internet. (Which is true of more people than you think.)
An institution that promotes lifelong learning, creativity, and innovation. In addition to the vast amount of material available to be borrowed, libraries are intentional about offering programs designed to interest and benefit the public.
A safe, welcoming place where people of all ages can come for either quiet study or social engagement.
A resource for anyone seeking information, from genealogical research to those needing help with online job applications. Because of interlibrary loans, the local library has become a portal to a vast collection of knowledge, and the local librarian is trained to help you find what you are looking for.
What about you?
Do you use libraries? Do you support them? Do you believe they should exist?
I want to hear your opinions on the subject. I mean it.
I REALLY WANT YOUR FEEDBACK!
Comment on this post, add your remarks on Facebook, or send me an email with your thoughts. Call me, text me, stop me at the store—whatever works. Let me know your thoughts.
Why are public libraries important? Why do we need them?
How could public libraries do better at serving the needs of our present communities?
How do you see libraries changing to remain relevant in the near future?