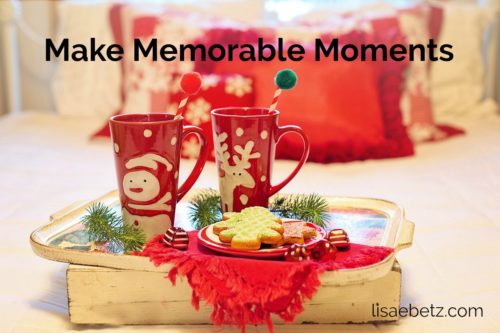 Christmas is an opportune time to create memorable moments. The kind of moments that will be remembered with delight for years to come.
Sometimes memorable moments happen "magically", but sometimes they happen because we've created the opportunity. We cannot control which moments someone will remember forever, but we can do something to make it more likely that a certain moment becomes memorable.
And who doesn't want to create magical, memorable moments for their families to enjoy?
How to create memorable moments
A moment becomes memorable when it stands apart from the ordinary. So the best way to create potentially memorable moments is to find ways to break free from the usual rut and do something unexpected. The good news is that these surprises don't have to be big or expensive. They merely have to create joy in the participants.
Another hint—the more you involve the senses, the better. So get out there and experience life through all the senses. Put the devices away, turn off the screens, and go outside or get your hands dirty in a fun, creative project. Messes make memories!
Some ideas:
Add a twist to a tradition. Act out the Christmas story instead of merely reading it. Or sing it like opera.
Dress things up. You can make an ordinary dinner special by telling the family to wear nice clothes and serving dinner on the fancy plates. Alternately, pick a theme and wear costumes accordingly. North Pole Elf breakfast anyone? (What do elves like for breakfast, I wonder?)
Declare a certain day "Do Something Different Day" and plan to break from the usual activities and try something new. Take turns coming up with crazy ideas, and then figure out how to actually do one of them.
Make new milestones. Come up with a fun milestone to celebrate, something like the 200,000th second before Christmas (Friday at 4:27 pm)
Add competition. Add an edge to a tradition by turning it into a contest. Who can decorate the "most beautiful" or "most colorful" cookie. Who can sing the most verses to The Twelve Days of Christmas without missing a word (all while standing on one foot).
Now it's your turn. Spend a few minutes coming up with ten or more ideas to go beyond the usual this Christmas. How can you add another layer of surprise and delight to your celebrations?
If you're intrigued by the concept of making memorable moments, you might enjoy The Power of Moments: Why Certain Experiences Have Extraordinary Impact by Chip and Dan Heath.