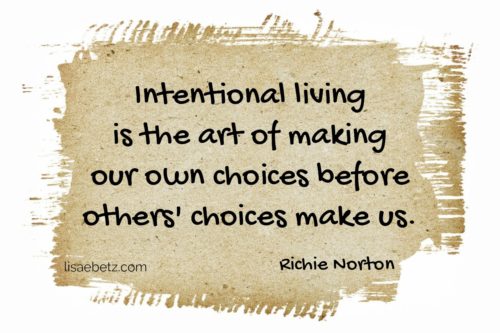 This year I want to a better me than I was last year.
How's that for a New Year's resolution?
True, it's vague and hard to measure. It isn't a well-stated goal, but it captures what is important to me and can stand as a guidepost to help me make decisions about whatever crops up in daily life.
So how do I plan to become a better me than I was last year? By being intentional about:
How I live each day, so I continue to pursue a healthy lifestyle and wise habits
The activities I pursue, and how and why I pursue them
Challenging myself to grow: professionally, creatively, spiritually, and emotionally
Making daily decisions based on my priorities rather than simply going with the flow
Those are still pretty broad statements, so I've broken it down further and tried to add some small daily practices to help me make actual progress on my journey to a better me.
This year I want to be more intentional about:
Relationships
This means being proactive to make time to be together (Someday only happens when I put it on the calendar)
Making an effort to connect to someone every day (instead of hibernating in my writer's cave for days at a time)
My relationship with God
Practicing daily times of stillness
Incorporating larger chunks of focused time to reflect, pray, and seek direction
The goals and dreams I pursue
Taking a hard look at the goals I am pursuing to make sure they lead me to who I want to be, not to who I think I should be
Facing up to my fears, inadequacies, and mistakes, and then choosing to take the next teeny step
Challenging myself creatively
Developing a regular habit of creative exercises to stretch myself
Seeking new experiences that will broaden my creative horizons (planning ahead to get them on the calendar)
My attitudes
I will look for reasons to be grateful, and keep them in mind even when life isn't going the way I would like it
I will practice a growth mindset, especially in areas where I am weak or inexperienced
Caring for my body
Regularly doing the exercises and stretches I know I should be doing (even when I don't feel like it)
Remembering to pay attention to what my body is telling me throughout the day. (I tend to hunch over and focus for long periods when working. I need to practice regular times of getting up, breathing deeply, and getting the blood flowing.)
What I eat
Planning ahead to make healthy snacks and meals rather than opting for pre-made choices
Choosing to find sources of better food rather than settle for what's available at the one local store even though that means extra effort
Remembering to pay attention to the food when I eat it, especially when I am eating alone
What I buy
All non-essential purchases (especially impulse buys) should pass the "does it spark joy" test. I have been practicing this for a while and have found it helpful in resisting ho-hum clothing purchases and impulse food buys that wouldn't really satisfy.
Making the effort to buy local and free-trade products more often
What about you?
Do you want to be a better you than you were last year? In what areas do you need to be more intentional about your life to make it happen?