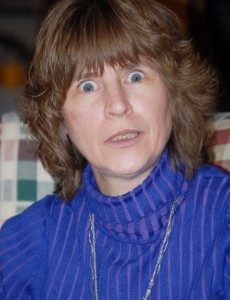 The following highly subjective observations are based on fifty year's careful study of introvert behavior :
Ask us to make phone calls. I avoid making phone calls almost as much as I avoid mayonnaise. Even simple calls like making an appointment with the hair dresser. It may  be irrational, but I'm not the only introvert who feels this way. Unless you have a really good reason, make the call yourself. And don't even think about asking us to call the hospital and clear up that bill for $27.85 you're sure we don't need to pay.
Complain that we are "doing nothing." We aren't. Just because we are not moving does not mean we are doing nothing. Actually our brains are quite busy. We have a vibrant inner world that you may never understand. When it looks to you like we are "doing nothing" we may actually be coming up with something brilliant. So quit the guilt trip and give us room to think.
Take us on a date—to a restaurant filled with noisy people and plastered with TV screens. As I've mentioned before, I think TVs should be banned from restaurants. If there is too much stuff going on in the background we cannot connect with you, and isn't that what a date is supposed to be about?
Insist we need to have fun. Actually, we like having fun as much as you do. The problem is that our definition of fun is different than yours. Going to Times Square on New Year's Eve is not fun.  (As far as I'm concerned, going to Times Square on any day is not fun. I know. I've been there. Way, way too much stimulation. Don't ever make me go back there.) Facing a room full of strangers is not fun. Meeting one or two new people and getting to know them is. So is an evening playing games with friends. So [gasp!] is reading a book, or working on a puzzle. Just because you are bored doesn't mean we are.
Expect us to enjoy a vacation that involves activity from the moment we wake up until the moment we collapse into bed. Stop! Just stop! Unless you want a very grouchy introvert, give us time to relax between bouts of activity.
Equate "fun" with "exciting".  Introverts are typically not adrenaline junkies. It has to do with how our brains react to stimuli. Adrenaline can make us feel over-stimulated, tense and miserable. Does that sound like "fun" to you? We like excitement from time to time, but we do not crave it, and too much of it puts us over the edge.
Volunteer us to host your company picnic. Do I need to explain why this is a bad idea? If merely attending a company function stresses us out, how do you think we feel about playing hostess to fifty people we don't know?
Foist public attention on us. Waiters singing stupid happy birthday songs while the entire restaurant looks on, getting chosen to go on stage for "audience participation," acting loud and silly in the middle of a public park. These are the things that nightmares are made of. Really. Exposing us to this kind of trauma will not help us lighten up.  It might, however, make us vow never to go out in public with you again. You've been warned.
I hope this has been helpful to those of you who are puzzled by the introverts in your life. The next time an introvert totally bewilders you, just remember that we don't understand you either. But we need each other.
Even though we drive each other crazy.
More questions about peculiar introvert behavior? Let me know.