Do you ever get out of bed and decide you don't feel like facing it today?
Yeah, me too.
Some days I can come up with a million excuses for not exercising, for not facing that blank page, for not getting around to entering my work in that contest …
Some days it feels like there's an actual force keeping me from doing what I know I ought to do.
That force has a name:
Resistance
With a capital R.
Right now Resistance is telling me I can finish this blog later, because, I'm not sure what to write next, I should unload the dishwasher first, Oh look, the cat wants to come in, Wow, it's a nice day, I should text Janet about going for a walk, …
[20 minutes later]
Resistance comes in many guises, but its purpose is always the same—to keep us from self-improvement, creativity, or the pursuit of vision. Resistance wants us to stay in our ruts, afraid of change, shrinking from that stirring in our soul that says we can do more, that we can pursue our passions, that we can make a difference.
Resistance is anything, anyone or any thought that hold us back, distracts us, or convinces us we shouldn't try.
Resistance will tell you anything to keep you from doing your work. ~ Steven Pressfield, The War of Art
The bad news: Resistance will never go away.
The good news: We can overcome it.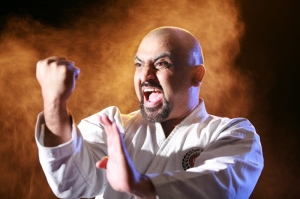 Fighting Resistance
Know why you're doing it – If we can't articulate the deep, convincing reasons why we want to accomplish something, we'll never get past Resistance. "Because Mom told me to" is not enough here. The harder the goal, the bigger the stakes need to be. We have to want it—which means we have to know why we want it. For example: I am not exercising to look nicer in a swimsuit. I am exercising because I want to keep this over-fifty body healthy, so that I can do fun stuff with my husband, children, and (potential) grandchildren for many years to come.
Look fear in the eyes – if we wait until we're no longer afraid, we'll never do the hard things of life. To fight Resistance, we must acknowledge that the fear is real, but not allow the fear to keep us from facing what challenges us—whether that is making phone calls, starting a blog, admitting you were wrong, or directing a play.
Focus on actions, not results – If we focus on the end goal, Resistance will get us every time. The end goal is too big. Too far. Too hard. Instead, focus on the goals of today: Write 2,000 words. Make that phone call. Drive to the gym. Simply show up and do the work. Each day. Every day. In time, the results will come.
Resist criticism – There will always be those who criticize and belittle. The wise person learns to ignore them. Most of the time, such criticism comes from those who are not content, because they have not learned to overcome Resistance themselves, and are jealous of those who succeed. Don't take ownership of other's critical comments. And whenever you feel an urge to criticize another, stop and identify why you are feeling so insecure or jealous—then decide to do something positive about your problem, rather than stomp on someone else's dreams.
Get the right kind of help – Any worthy challenge is bigger than we are. We need to admit we can't do it alone, and then surround ourselves with people who will support our efforts. But seeking accountability and encouragement is only half the battle. We must also limit our exposure to the naysayers and dreamcrushers. We have enough trouble overcoming the voice inside our head that tells us we can't do it—don't fuel Resistance's power by adding other voices as well.
 Rule of thumb: the more important a call or action is to our soul's evolution, the more Resistance we will feel toward pursuing it. ~ Steven Pressfield, The War of Art
Don't let Resistance win!
Where do you see Resistance in your life?
If you could overcome Resistance, what could you achieve?
Related Posts: