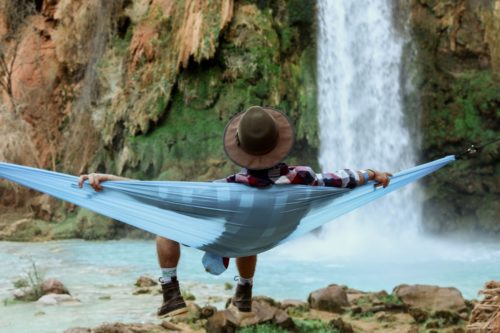 Vacations. They're supposed to be fun and relaxing. A chance to get away from the office, see the sights, kick back, dine out, and generally enjoy life.
Sounds nice, but it isn't always so easy, is it?
Vacations are also a lot of work. We can stress over the details, spend too much money, or make ourselves miserable when things don't go as planned. We can come back drained, grumpy, and painfully sunburned.
Who wants that kind of vacation?
Here are simple strategies to make your vacations simpler and more enjoyable.
Start with the big picture
Simplify your purpose
Before jumping into the details, consider why you are taking a vacation in the first place: To see family? To recharge? To tour? You can't do all of them at once, so decide which is the primary goal and focus on that. If you desperately need to slow down and recharge, resist the temptation to squeeze in a ton of sightseeing. Let go of expectations that conflict with your primary purpose, and your vacation will be a success, whether you get around to the secondary goals or not.
Bring your expectations in line with reality
Spend a few minutes being honest with yourself about the following:
What you can afford (vs. what you wish you could afford).
The types of activities you and your family actually enjoy (vs. what "everyone else" enjoys). Some people think a cruise is the ultimate vacation. My husband and I prefer camping and long hikes on empty trails. Choose what works best for you.
The needs and limits of family members. Children's ages or health considerations may limit your options. Work within those limits and everyone will be happier.
Taking the time to consider your purpose and expectations will go a long way towards ensuring a positive vacation.
Focus on the details
Create a master packing list
Do you hate arriving at your destination only to discover you've forgotten something important? I do. I've forgotten socks, pillows, the camera, or the beach umbrella at one time or another.
Even if you are a list-maker, it's all too easy to forget a few key items when you're rushing to get packed up. Simplify the process by creating a Master Packing List. Here's one to get you started. Take the model and create your own for the various kinds of trips you regularly take, such as the Master Camping List or the Master Ski Trip List.
And remember: unless you're doing wilderness camping, you can always run to a store and purchase whatever you forget. So don't stress.
Spread the load
Does the house turn into chaos right before you leave for a trip? Perhaps you should start the process earlier and spread the work out over multiple days. This gives you more time to think through things, and it leaves you less exhausted and stressed right before you leave.
This Vacation To-Do List gives suggestions on how to prepare for a trip in a leisurely, sane manner.
Finally, consider doing without the following:
Your entire set of keys, or the entire contents of your purse. Why drag all that weight around and risk losing it? Only bring the necessary stuff, leave the rest at home.
Irreplaceable jewelry
Liquids that might leak into your suitcase. Instead, consider buying it when you get there.
Souvenirs. Do you really need more gift shoppe junk? Only bring home items you absolutely love. Skip the rest.