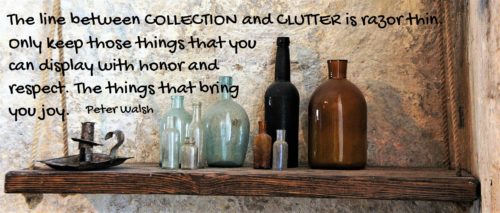 But wait, isn't that the definition of clutter—stuff that looks cluttered?
Sometimes, but clutter is broader than that. If you find a stack of mixing bowls in the living room, it would be clutter, no matter how neatly they were stacked.
Clutter is:
Stuff that isn't where it belongs
Something that obscures what you want to see
Anything that gets in the way
Anything that weighs us down and hinders household efficiency
So clutter is anything that obscures, bogs us down, gets in the way, or doesn't belong.
The definition applies to the shoes lying on the living room floor, but also to the twelve pairs neatly stored in the shoe organizer that you no longer wear and really should donate.
3 ways clutter might hide in your otherwise-tidy house
Hidden clutter.
A house might look tidy and organized, but only because the clutter is stuffed away where it isn't visible. Packing clutter in boxes and stacking it in the attic or a storage unit does not make it go away. Hidden clutter may not get in our way on a daily basis, but it hinders us every time we want to find something in a muddled junk drawer or overflowing closet. Yes, we all need storage for infrequently used items, but when closets and basement shelves become receptacles for anything we don't feel like dealing with, we have a clutter problem.
Fancy organizing systems.
That cute basket beside your chair might be a great way to corral untidy magazines, but it might also be an excuse to keep them around instead of sending them on. On a larger scale, no matter how nice a storage system may look, if it doesn't solve your family's usage and storage needs, it is merely a stylish clutter problem. (See hidden clutter above.) If you are expending way too much time and effort putting things away in the designer baskets on your storage system, perhaps it's time to rethink the whole thing. To combat clutter, you want make it as easy as possible to put things where they belong. This probably means various containers in various rooms rather than a whole house-worth of stuff organized into one closet. This might mean some things belong in plain sight. For example: If you make smoothies every morning, designate a spot on the counter for your blender. (And maybe consider moving the mixer or some other infrequently used appliance into a cabinet instead.)
Overcrowding.
Anything that is packed to capacity feels cluttered, even if everything is plumb, level, and neatly stacked. Home decorators and home organizers agree that white space is important. If your refrigerator is covered in notes, the sheer volume obscures the truly important items. Even a room can become overcrowded with extra chairs or an overabundance of knickknacks. Professional organizers suggest a rule of thumb: when something is at 80% capacity, consider it full. That means leaving some space in the book shelves, your clothes closet, and your living room walls. Think of museums. They don't fill every space with displays, but leave plenty of space between things. Do the same and your home will feel calmer and less cluttered.