I'm an ordinary woman with an everyday life, but sometimes I dare to dream of extraordinary possibilities—like writing and publishing a novel. I write, dream, and converse with the characters in my head from an empty nest set in a scenic corner of Pennsylvania. I have two twenty-something boys, a husband who spends his spare time enjoying the outdoors, and a neurotic cat.
In addition to writing blogs, scripts and novel manuscripts, I read, volunteer at the library, direct an occasional drama, open the door for the cat, and look for ways to make sense of this crazy world we live in.
My hope is that this blog will not only help me on my journey, but will inspire others like me to move forward in the pursuit of their dreams—no matter how old they are.
Seven things you may not know about me.
My twenty-something sons have embarked on their own adult lives, which means I must be more intentional than ever with the (all too brief) moments I spend with them.
Our cat tests my resolution to be intentional on a daily basis. She is young, playful, and full of energy. If I get too wrapped up in my own agenda, she will find a way to remind me to get my head out of the computer and into the moment. Her enthusiastic (but not necessarily graceful) antics bring laughter into my day, a simple pleasure I do not want to miss.
I never planned to become a writer. I thought I wanted to be a biochemist, or a marine scientist, or an engineer. Eventually I discovered that writing touched something deep in my soul. This blog is product of my resolution to pursue my writing dream, and my resolution to consistently grow my writing skills.
My passion for first-century history and culture comes from years of leading Bible studies. I was reading dry tomes on the history of Palestine long before I decided to become a writer. Now at least I have an excuse that doesn't make me look completely eccentric.
I have a degree in Mechanical Engineering. This helps with problems like: If the main character is traveling from Ptolemais to Tiberias on a donkey that travels at 4 mph, how many days will it take?
I volunteer at my local library because I books have always been one of my passions. (Also, volunteer book-sorters get first dibs on rejected donations. Anyone have a spare bookcase they want to sell?)
Although I do not consider myself a minimalist, I do go on de-accumulation binges now and then. I even thin out my book collection, (which may or may not include donating books I bought at the last library sale to be resold at the next one.)
A peek at my family (The main reason I try to lead an intentional life.)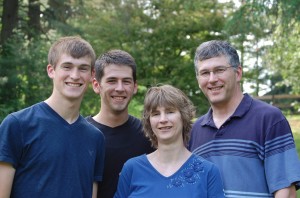 Some Favorite Posts
Seven Ways to Say, "I Love You" (to an Introvert)
What Lies Are You Listening to?
Tapping into the Secret Power of Art
Don't want to miss my posts? Sign up for email updates, and whenever I put up a new post, you will receive an email version (which will wait patiently in your inbox until you feel like reading it.)