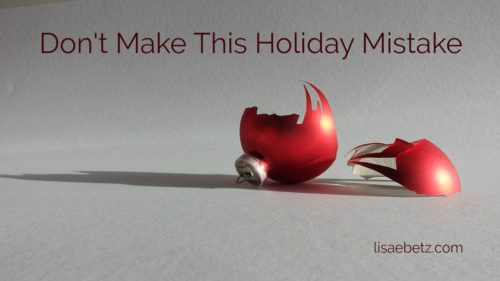 Visions of sugarplums. Candy canes. Eggnog. Trays of Christmas cookies. Steaming cups of cocoa topped by clouds of whipped cream.
'Tis the season to indulge…
But that shouldn't mean an excuse to throw all your healthy habits out the window. In fact, with all the temptations plus all the extra activities, keeping yourself healthy is more important than ever.
I know, I know. It's really tough to stick with good habits when life doesn't follow your normal schedule. But if you aren't intentional about taking care of yourself, by the end of the month you'll be an overweight, stressed-out, grouch with achy joints, an irritable digestive system and a nervous tic whenever you hear the words merry, jolly, or reason for the season.
Sure you could hide all your discomfort under an ugly sweater and prop up your sagging spirits with yet another shot of caffeine and sugar.
Or you could decide today that taking care of yourself is important.
Five key steps to holiday self-care
Don't jettison your exercise and diet routines. Give yourself some slack to enjoy an indulgence or two, but don't quit altogether. You'll feel much better about those extra treats if you know most of the time you're making healthy choices.
Get enough sleep. It's crucial for both our physical bodies and our emotional well-being. Sufficient sleep can restore body and soul like little else.
Fill your tank. Yes Christmas is about doing things for others, but don't people-please yourself into a pit. Take time for the activities that lift your What fills your soul, restores your emotional balance, sparks joy in your heart? Make sure you save time in your daily schedule for whatever it is that restores you. The people around you will thank you for keeping yourself happy.
Do something creative (that you actually enjoy). Good news—the holidays are filled with opportunities to put your creativity to work. Bad news—it's all too easy to feel guilted into creating stuff that isn't your cup of tea. If you love baking, this is a great time of year to indulge your creativity. If you hate baking, ask yourself what activities/hobbies/crafts you do enjoy. And then find a way to get some if it into your life (even if it doesn't look or feel the least bit Christmassy).
Give yourself time to decompress. We introverts can easily become overwhelmed by the extra crowds, noise, hype, and social obligations of the season, but even extroverts need alone-time now and then to recover and restore inner equilibrium. You are not the Energizer bunny. You need down time. You need nights when nothing is scheduled and you can put your feet up. You need mental space to overcome the unexpected but unavoidable encounters with nastiness, realign priorities and reestablish your inner balance.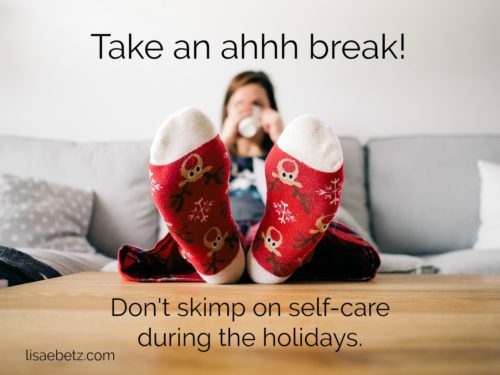 Sanity for the Season Self-Care Extra
Five simple hacks for dealing with Hectic Holiday Overwhelm
Make a game of it. Stuck waiting in a lo-o-o-ng line or circling the parking lot for a space? Invent a game to keep everyone's mind off the frustration and boredom of the wait. For starters, there's always "I Spy" or the alphabet game (don't forget license plates).  Alternatively, come up with a simple holiday-themed challenge, like who can find the most red articles of clothing, or the store with the most lights.
Become an observer. Tired of jostling crowds? Find a place to sit down (if possible) and spend a few minutes people-watching. (If you find this awkward, buy yourself something to eat or drink. It's amazing how a simple prop can help.) The key is to withdraw from the frenzy and become a detached observer. To make things more fun, imagine what the people passing buy want most for Christmas.
Find a job. This is a tried-and-true introvert party survival trick, especially useful in situations where you don't know anyone. Pick up abandoned plates, keep the ice bucket filled, circulate the crowd with a tray of goodies. It may sound odd, but somehow doing a job helps you focus on something other than the awkwardness of being in a room full of strangers.
Hide. When you're out and about and the crowds become too much, find a hidey-hole for a ten-minute solitude break. Restrooms and dressing rooms work well. Slip inside, lock the door, and spend a few minutes breathing and thinking pleasant thoughts. Ahhh.
Change your focus. Feeling bombarded by crowds, by too many obnoxious blinking lights, by the "noise, noise, noise, noise"? Then it's time to change your focus to something nicer. Look around you for something that you like. Something that can spark a reason to feel gratitude. Close your eyes and focus on identifying specific sounds or scents. The idea is to break the "deer in the headlights" feeling of being overwhelmed by focusing on just a detail or two. Then, adding a moment of gratitude lifts your spirits, which helps you face the rest of it a little easier.